Discover the latest from the world of education
Early Years Excellence 2018 Finalists Announced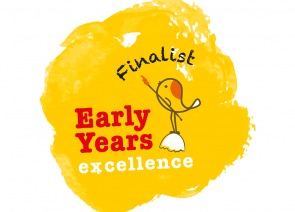 Contact:
Print this page

Nominations to this year's Early Years Excellence Awards have closed, and we are now delighted to reveal our finalists.
Comprising five nominations from each of our 12 trade categories, the shortlist features a wide variety of innovative resources – from construction toys and musical instruments, to CPD packages and picture books, and much more.
You can find a full listing below.
The next stage will see the finalists assessed by a nine-strong expert panel of early years authors, leaders, consultants and educators, amongst them LEYF CEO June O'Sullivan MBE, Old Station Nursery MD Sarah Steel and award-winning author/illustrator Lizzy Stewart.
Their verdicts will be unveiled in Teach Early Years magazine in September, with our five-, four- and three-star winners in each category showcased in a comprehensive Awards special.
To all those who made nominations, thank you again for taking part – and to our finalists, good luck!
If you have any queries about this year's Early Years Excellence, don't hesitate to get in touch with the team – email Teach Early Years editor, Jacob Stow or advertising manager, Samantha Law.
Early Years Excellence 2018 – Finalists
Communication, language & literacy
Tales Toolkit
Yellow Door – Early Literacy Progress Pack (available at Eduzone)
Memorability Ltd – MemorAbility
The Curious Fox Company – Early Scribbles Role Play Boxes
Chatta
CPD
Inclusion Expert – Watch Read Do Review
Mine Conkbayir – Applying Neuroscience to Early Intervention
Foundations Focus – Supervisions for Early Years: Complete Guide
NDNA – Maths Champions programme
Laser Systems – Laser Short Courses
Creative play
Commotion / TickiT – Sensory Blocks (available from Gompels)
Hope Education – Magicubes
Fafunia and The New Factory – Tengja
Roylco – Curlicue Rods (available from Educational Advantage)
KAPLA – KAPLA 100 Box
Digital learning
Genee World – Early Years Tilt & Touch Table
Bloomsbury – Bloomsbury Early Years
Talking Products – Voice Pad
EducationCity Ltd – EducationCity
Learning Resources – GeoSafari Jr Talking Microscope
Early exploration
Commotion / TickiT – Rainbow Viewers
Yellow Door – Honey Bee Number Kit
Oxford University Press – Numicon Firm Foundations
Lakeshore – STEM Block Play Kit (available from Eduzone)
Booklife Publishing – Booklife non-fiction range
Happy & healthy
Be the Jellyfish – Be the Jellyfish resources
Wisdom – Sensory Balance Beams (available from Educational Advantage)
Lawrence Educational – Beat Baby Handbook
Jessica Kingsley Publishers / Jo Cormack – Helping Children Develop a Positive Relationship with Food
Early Years Resources – Superpower Superhero Set
Music
Musicbuds
Collins Music – Music Express Foundation Stage
ABC Creative Music – ABC Early Years Musicality Resource & Instrument Bag sets / Digital resources
Ocarina Workshop – 4-hole Oc
Out of the Ark – The Niki Davies Book of Splendid Science Songs
Picture books
Bloomsbury / Tom McLaughlin – Along Came a Different
Lantana Publishing / Chitra Soundar & Poonam Mistry – You're Safe With Me
Old Barn Books / Bryony Thomson – The Wardrobe Monster
Phaidon / Barbara Kanninen – Circle Rolls
Nosy Crow / Ross Collins – This Zoo is Not For You
Reception
3P Learning – Mathseeds
Schofield & Sims – Get Set Early Years
Jolly Learning – Jolly Music Player
Oxford University Press / Nuffield Foundation / Elklan – Nuffield Early Language Intervention
Sound and Music – Minute of Listening
SEND
Commotion / TickiT – Sensory Mood Light Ball (available from Gompels)
Orkid Ideas – TomTag Manage my Feelings kit
Wedge Whiteboards – Wedge Jotter pack
Playlearn – Liquid Floor Tile (available from Eduzone)
Therapy Box – ChatAble
Toys & games
Talking Turtle – Playtime Dinosaur Castle
Orchard Toys – Dinosaur Lotto
Playmobil – Pirate Ship
Orange Tree Toys – Crocodile Alphabet Puzzle
Indigo Jamm – Benji Bus
Under-2s
Boogie Mites – Minis Music and Movement Programme
Le Toy Van – ABC Wooden Blocks
Orchard Toys – Animal Shapes
Little Learner Books / Little Signers Club – At the Bottom of my Garden
Learning Resources – Snap-N-Learn Matching Dinos