Discover the latest from the world of education
Durable, Unique and Safe Classroom Storage Units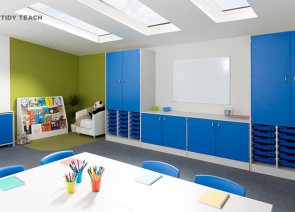 Contact: Visit Website
Print this page

The learning environment has a huge impact on the happiness of pupils, teachers and staff. At Tidy Teach, we aim to make your classroom as pretty, safe and tidy as possible.
Tidy Teach is a new exciting manufacturer of school furniture. The units are designed to look great while helping teachers make the most out of their classroom.
Not Your Typical Storage Units
Tidy Teach are a new type of classroom storage unit that are three things: Durable, Unique and Safe.
Sturdier panels, better fixings and additional safety features create the perfect classroom unit. Constructed by our expert joiners and delivered built, so you know it is made to last.
We Take Safety Seriously
Classroom furniture needs to be as safe a possible for the children and teachers. Our units have been rigorously tested for risks. We created our own safety guard to stop fingers getting trapped. Our wheels are the chunkiest to ensure they don't break. Static units have legs so they can be levelled up on uneven classroom floors.
They Look Amazing! (As amazing as a storage unit can)
A choice of either grey or white units (in a protective easy-clean laminate). Then choose a vibrant colour for your trays and doors. The various units are designed so they can be combined to create a wall configuration. Guaranteed to brighten up the classroom.
We Use The Best Trays
Gratnells are the market leader in manufacturing plastic storage trays. Chances are if you have trays in your school, they will be Gratnells. These shallow trays are perfect for safely storing pupil's work and resources. They will also last longer than the next few curriculums.
As Easy as ABC
Pick which unit, how many you need and what colour combinations you want. Easy as that.
Then we build, pack and deliver directly to the school.
Once delivered, place the units where you want and secure in place. That's it. You are ready to teach the next generation of geniuses.
To view the full product range and purchase online, visit tidyteach.co.uk.