Discover the latest from the world of education
Engage parents in children's learning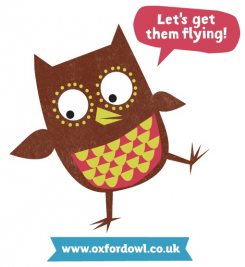 Publisher: Oxford University Press
Print this page

Oxford Owl is a FREE website that enables mums, dads and carers to support young learners with their reading and maths…
It is not always easy to engage parents in their child's learning but as you know, parental involvement is one of the most influential factors on a child's success at school; over and above other considerations - including family income. Oxford University Press recognise this and have developed a free parent support website,
Oxford Owl, which has been designed to provide advice and simple but effective ideas for parents to help with their children's learning at home.
What does Oxford Owl provide?
Aside from over 260 free eBooks, with linked activities, for parents to share with their children Oxford Owl has a wealth of advice, support and information for parents to support their children's reading and maths. This includes ideas for motivating boys to read, top tips for keeping up with reading in the holidays, fun ways of getting children excited about maths and a whole host of games and activities for children to enjoy.
Oxford Owl includes:

Free eBooks with audio and linked activities
Expert advice on a range of hot topics including a handy phonic guide on how to say the sounds
Top tips on how to support children's reading at home - including video of Children's Laureate and author of The Gruffalo, Julia Donaldson
Videos of experts – including Andrew Jefferies with great ideas for maths games to play at home
Book lists to help you choose the right books for your children
Dedicated children's areas of the site with fun downloads, interactive games and much more besides!
What people say about Oxford Owl?
In an independent survey conducted by Children's Forum in May this year confirmed that 100% of teachers would recommend Oxford Owl to their parents.
Here are just a few of the comments:
This website has been an excellent starting point for our parents and also takes some of
the pressure off already busy teachers, when providing extra activities for parents to do at home.
Louise Hewthes, Reception Teacher
What a find! I think this is a terrific free resource and plan to spread the word.
eBooks are the way forward for Guided Reading (in my opinion) and they will engage the boys! You are on to a winner with this. I teach in Reception and know my children will love the ebooks.
Karen Smith, Broadwas Primary School, Worcester
Oxford Owl is completely FREE and is perfect to recommend to parents. www.oxfordowl.co.uk